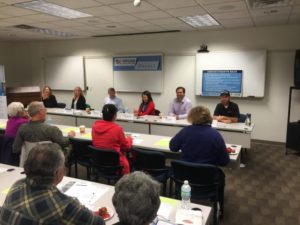 A few times a year Kirtland Federal Credit Union hosts a Q&A panel for potential home buyers and potential home sellers. They typically consist of a Realtor(me), a mortgage lender, a title company escrow officer, an appraiser and a home inspector. Here are a few of the questions that came up that I thought I would share.
Q. What is the difference between an appraisal and a home inspection?
A. An appraisal is to determine the value of the home in todays market and a home inspection is to determine the condition of the mechanical systems in the home.
Q. Should I get an appraisal before I list my home for sale
A. You can get an appraisal on your home if you would like to but that appraisal can't be used by the buyer of your home for their mortgage. Mortgage lenders have to order the appraisal for the buyer. When trying to establish value on your home Michael Dunn will give you a detailed and comprehensive breakdown of the market to determine market value of your home
Q. Are there still any first time home buyer programs out there?
A. YES!! There are! Some of these programs only require as little as $500 out of pocket to close on your new home!
What additional questions do YOU have about the home buying or selling process?? Call, Text or email me and I'd be happy to answer them for you!! Michael Dunn 505-379-5849 ABQDunn@gmail.com or fill the form out below